MultiMagnum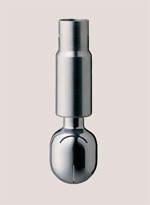 The Toftejorg MultiMagnum is a rotary spray head that uses cleaning media to provide coverage and impact. The device represents an effective alternative to traditional static spray balls because it uses lowvolumes of cleaning fluid at low pressure.
The double ball bearing in the Toftejorg MultiMagnum's rotating head makes the device suitable for all industrial cleaning applications, including tanks,reactors, vessels and othercontainers ranging from 5 m3 to 50 m3 (1,300 – 13,000 US gallons), depending on dimensions and cleaning task. Sizing/selection and installation drawing are available in Alfa Laval CAS tool for Tank cleaning equipment.
Working principle
The flow of the cleaning media causes the head of the Toftejorg MultiMagnum to rotate, and the fan-shaped jets lay out a swirling pattern throughout the tank or reactor. This generates the impact needed for the efficient removal of residual product; the cascading flowcovers all internal surfaces of the vessel. The MultiMagnum are designed to be installed in any given angle.
Standard Design
As standard documentation, the Toftejorg MultiMagnum can be supplied with a "Declaration of Conformity" for material specifications.
Specifications
Inlet connections
1.4401 (316)
Bearing race parts
SAF 2205 (UNS 31803)
Balls
1.4401 (316)
Head
1.4404 (316L)
Weight
Thread: 0.90 kg (1.98 lbs)
On pipe: 2.5 kg (5.51 lbs)
Lubricant
Self-lubricating with the cleaning fluid
Working pressure
1 – 3 bar (14.5 – 44 psi)
Recommended pressure
2 bar (29 psi)
Max. working temperature
95 °C (203 °F)
Max. ambient temperature
140 °C (284 °F)
Wetting radius
Max. 3 m (10 ft)
Impact cleaning radius
Max. effective 2m(6 ft)
Connection
1 1/4" Rp (BSP) or NPT thread.
Weld-on for pipe:
ISO2037, ASTM A270, BS4825 part 1 or DIN 11.850
Certificate
2.1 – 3.1.B – ATEX
Options
Downpipes with Tri-Clamp and flange connections.