TZ89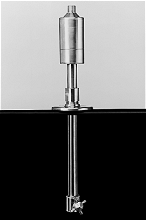 The TZ-89 rotary jet head provides 360° indexed impact cleaning over a defined time period. It is fully automatic and represents a guaranteed means of achieving quality assurance from cleaning tanks.
Applications
Processing, storage and transportation tanks and vessels between 0.5 and 50 m3 (130 to 13,000 US gallons). Used in breweries, food and dairy processes, pharmaceutical, chemical and meny other industries. The TZ-89 rotary jet head is particularly suitable for industries using solvent cleaning for those applications where very low flows are preferred but 360° impact cleaning is still needed, e.g. pharmaceutical.
Operation
The flow of the cleaning fluid makes the nozzles perform a geared rotation around the vertical and horisontal axis. In the first cycle, the nozzles lay out a coarse pattern on the tank surface. The following cycles make the pattern gradually more dense until a full pattern is reached after 8 cycles.
Options
Special versions include triclamp connections and ultra low flow with fast rotation. An electronic rotation sensor to validate 360° coverage can also be included.
Quality System
Toftejorg Tank Cleaning Equipment is produced in accordance with ISO 9001 International (Quality Standards.
Ordering Information
Please specify nozzle size, required connections and confirm application suitability.
Specifications
Materials
AISI 316L, AISI 316, SAF 2205 (UNS 31803), PFTE, PVDF, PEEK, FEP/Silicone
Weight
7 kgs (1 5.4 lbs)
Lubricant
Self-lubricating with the cleaning fluid
Working pressure
2 – 7 bar (30 – 1 00 psi)
Recommended pressure
3 – 6 bar (44 – 87 psi)
Max. working temperature
95-C (203°F)
Max. amblent temperature
140-C (284°F)
Max. throw length, static
4 – 7 m (13 – 23 ft.)
Effective throw length
2.5 – 4 m (8 – 1 3 ft.).
lnlet connections
Thread: 3/4″ BSP or NPT, male Clamp: 1 " ISO 2852
Minimum tank opening
See dimension drawings
Tank connection
Flange: 50 ND6 DIN 2501, or 3″ ANSI B 16.5
Clamp: 3″ ISO 2852