TZ-750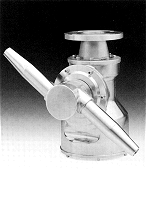 The TZ-750 rotary jet head provides 360 ° indexed impact cleaning over a defined time period. It is automatic and represents a guaranteed means of achieving quality assurance from cleaning tanks.
Applications
Storage and transportation tanks between 3,000 and 7,000 m3(792,000 and 1,850,000 US gallons). Used on tankers and in petrochemical and chemical processing industries. The TZ-750 is widely used in product carriers.
Operation
The flow of the cleaning fluid makes the nozzles perform a geared rotation around the vertical and horizontal axis. In the first cycle, the nozzles layout a coarse pattern on the tank surface. The following, cycles make the pattern gradually more dense until a full pattern is reached after 4 cycles.
Options
The choice of nozzle diameters can optimise jet impact length and flow rate at the desired pressure. Optional extension pipe is available.
Quality System
Toftejorg Tank Cleaning Equipment is produced in accordance with ISO 9001 International Quality
Standard.
Regulations
The equipment fully complies with the IMO regulations and the requirements of the classification societies.
Ordering Information
Please specify nozzle size and connections and confirm application suitability.
Specification
Materials
AISI 316L, PTFE, Carbon, Tefzel
Weight
13.6 kg (30.2 Ibs)
Lubricant
Self-lubricating with the cleaning fluid
Working pressure
5 – 12 bar (72 – 174 psi)
Recommended pressure
5 – 10 bar (72 – 145 psi)
Max. working temperature
95° C (203° F)
Max. throw length, static
30-40 m (98-131 f t.)
Installation
Fixed
Flange
0127 – PC98.5 – 4 x 011 mm (0.43″) holes
Minimum required passage
See dimension drawings